Book Description
A profound but practical approach to emotional maturity and spiritual wholeness, written by a Jeusit who devoted his life to recovery -- his own and thousands of others -- from the pit of addiction. His influence continues to touch the lives of countless people who seek happy and purposeful lives.


As I prepared to attend my first international A.A. Convention in Seattle in 1990, I was determined to find out A.A.'s roots in the Bible. I had previously been told that A.A.'s founder Dr. Bob had said the basic ideas came from the Bible. And I had read DR. BOB and the Good Oldtimers, an A.A. Conference Approved Book. To be sure, there was strong evidence that A.A.'s ideas were grounded on the philosophy in Jesus's Sermon on the Mount. Both founders (Bill and Dr. Bob) had said so. Also, both had acknowledged the three prime sources of A.A. ideas: the Book of James, 1 Corinthians 13, and Matthew 5 to 7 (the Sermon and the Lord's Prayer). But, alas, the details had been obliterated, and apparently by specific elimination, piece by piece. Therefore, it became necessary to analyze A.A. literature, A.A. archives, and materials in possession of such A.A. sources as Anne Smith's Journal, Sam Shoemaker's teachings, the Oxford Group, and early meditation books and Christian literature in order to find precisely which ideas the pioneers studied. Then it was necessary to locate those ideas in A.A. literature. And finally, it was vital not to guess or speculate, but rather to document the ideas. Moreover, I have found these ideas on God, prayer, healing, Christian principles,the power of God, deliverance, forgiveness, and love to be vital for sustained recovery in A.A. This particular title, therefore, focuses on the Bible and A.A. If you want specifics rather than interpretations and guesses, I believe you will find this book most useful. It can help Christians in A.A., those in A.A. who want to know their history, th ose who want to understand A.A. ideas and why the success rate was so high in early A.A. Clergy, churches, sponsors, counselors, and scholars can benefit from this specific study. (Author, Dick B.)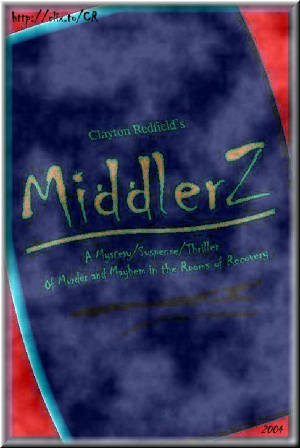 "MIDDLERZ" is one of the most, unconditionally daunting, menacing and frightening thrillers ever. In the first sentence, we are drawn into a bludgeoning, ritualized murder. Then, like plummeting off a cliff in the middle of the night, Redfield lets us fall into the abyss of what seems like the bland illusion of normality experienced in early sobriety. Then slowly, methodically, painstakingly, imperceptibly, he leads us, creepily, into a suspense-filled mystery/thriller, in and around the rooms of drug and alcohol recovery."
"Not since classic thrillers started shattering our confidence in the most trusted, safe and nurturing of places, has so innovative, so absolutley chilling a suspense/mystery been penned."
"A word of caution: Do not even start this book if you need your sleep. It is so addictive, will leave you so powerless, you will not be able to put it down, even for one day at a time."
"Let the white chips fall where they may!"
"If Hitchcock were alive today, this would have to be his next film!"